Submitted by
Lisa Kwak
on December 21, 2021 - 11:56am
To celebrate and to recognize that the contributions of Black Americans should be appreciated beyond the month of February, the Department of Dance is using its website and social media platforms to spotlight different Black dance artists in the greater Seattle area throughout the year of 2021. Former features include:  Kine Camara, Monica Rojas Stewart, Manimou Camara, Dani Tirrell, Rujeko Dumbutshena, Majinn Mike O'Neal, and Silvio Dos Reis.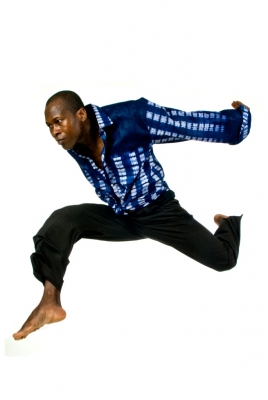 Photo by Erik Stuhaug
Etienne Cakpo (He/Him)
I love to dance and love to share a connection with people through dance.  A lot of the dance I perform and teach stems from my cultural foundation having grown up in Benin, West Africa. There, dance is a part of daily life. I have participated in social, historical, spiritual, and ceremonial dances in my culture my whole life. I have also had the opportunity to work with many talented international dancers who have exposed me to contemporary forms of dance, both from the West, such as ballet and modern, but also from their cultures, including Japan, Lithuania, Togo, Brazil, Haiti, Peru, Cuba, Senegal, etc. Here in the US, I see my role as a cultural ambassador to represent West African culture through dance and music. I love teaching children and giving them an opportunity to learn about African culture. I also get a lot of inspiration from working with cross-cultural choreographers from all backgrounds to create dance that is a fusion of different influences.
Photo by Siri Wood
Do you identify as Black? If so, what does being Black mean to you? How does Blackness inform your art?
I am Black African and the perspective of my African culture informs everything I do and how I experience the world. But first and foremost, I'm human and I feel that I can connect with just about anyone if given the chance. Laughter and joy connect us, dance and music connect us, our humanity connects us. We need to overlook our differences and find ways to unify - that is essential for creating a healthy and peaceful future.
What inspired you to become a dancer?
I have danced since I was a child - it's a common part of daily life in my family and in many parts of Africa. When I was younger I danced for various singers, and I met some international choreographers who visited Benin. I always got positive feedback and my parents encouraged me. I was also deeply influenced when I saw a video of Mikhail Baryshnikov, and when I first saw Koffi Koko on television.
What is one thing you would tell the younger version of you based on what you have learned in your journey?
Looking back, I would tell my younger self to trust myself and love what I do, and have patience. Don't be afraid, be humble and learn from the elders.
        (Photo by Erik Stuhaug)

What is something in your career that you are proud of?
I'm proud of many achievements, but especially having created many dynamic and innovative public performances for the public in Seattle with my company, Gansango Music & Dance. I'm proud to have performed nationally at places such as the Kennedy Center in Washington, DC, to have toured five cities in Colombia, and to have received awards for artistic excellence here in Washington State. Teaching in the UW Department of Dance is an honor for me as well.
What do you hope your legacy will be? 
I hope that I have played a role in rejuvenating Black dance in Seattle, especially in the drum and dance community, but also beyond - bridging to the modern dance community. Over the past 20 years in Seattle, I've taught classes to thousands of young people, and sometimes those are their first or only experiences of Africa. A few of them have been influenced to now travel, become dancers, learn more about Africa and African dance or drumming. It's wonderful to be able to influence youth in such a positive way that expands their life path.