You are here
Facilities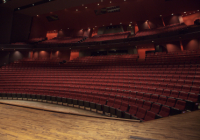 Meany Hall for the Performing Arts houses the Meany Studio Theatre and the Department of Dance offices and dance studios.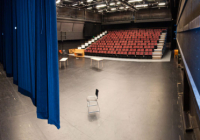 Directions to  Meany Studio Theatre: From North/Sounth bound 1-5, take the NE 45th street exit. Proceed east on NE 45th. At 15th Ave NE, turn right and proceed South. Turn left at NE 41st into the Central Parking Garage. The gatehouse staff will direct you to the closest parking for your performance and applicable parking fees are due upon entering the garage. If attending  a performance at the Meany Studio Theatre, the closest parking on Level C1. Signage will direct you to the theatre and the Studio Theatre is accessible from the Southwest corner of that level. Street... read more
Studio 267 in Meany Hall is one of the Dance Department's studios. For Dance Student Association performances and as a showcase for other student work, the studio is transformed into an intimate black box space with seating for 66 and basic sound and lighting capabilities.