Submitted by
Lisa Kwak
on February 2, 2021 - 4:29pm
To celebrate and to recognize that the contributions of Black Americans should be appreciated beyond the month of February, the Department of Dance is using its website and social media platforms to spotlight a different Black dance artist in the greater Seattle area every month through 2021. 
In February, we celebrate Afro Dance and Traditional West African Dance choreographer and instructor Kiné Camara. 
Photo by Val Gonzalez
Kiné Camara (She/Her) 
Kiné Camara is a choreographer and instructor based in Seattle, WA. In her choreography, she pulls from African and Afro diasporic dance styles, and often explores themes of Western vs African culture, and modern vs traditional dance. Dance is a powerful way to strengthen the mind, body and spirit - and her classes focus on all three! She leads Afro dance series and drop in classes online and in-studio for beginners and more experienced students alike. Her passion is to not only teach steps, but to educate holistically, discussing cultural/historical context, and cultivating self love and acceptance in tandem with physical practice.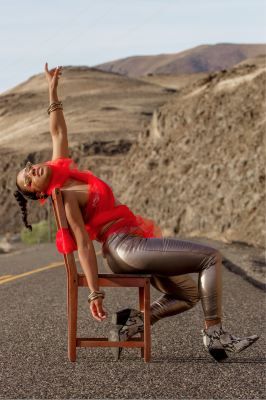 Photo by Val Gonzalez
How does Blackness inform your art?  
I am both biracial and bicultural, and that inspires my art as I look to explore themes of where my different heritage and influences meet - traditional vs modern Afro dance styles, and western/westernized vs African art forms. I spent many years repressing parts of myself, and now I look to celebrate who I am which is a unique mix. This is a work in progress, and I have so much more work to do. But working towards honoring all parts of myself is inner work I get to do that gives me access to greater freedom and creative power. 
What inspired you to become a dancer? 
I've always been a dancer, but I'd have to say my father was likely the first inspiration. He invested a lot into encouraging, coaching and training me in my early years.
What is one thing you would tell the younger version of you, based on what you have learned in your journey? 
You don't need to worry as much - embrace everything, and wait for the next development. You really don't know what's coming, and often times it's better than you think. 
Also, you're good enough. You actually can be extremely happy as a full time dancer, and will be fulfilled beyond your mind so you can quit chasing corporate job money and go be an artist already!
What is something in your career that you are proud of? 
I'm most proud of two things in general: When I inspire progress and teamwork. when my students are growing, that's my sign that I'm doing my job. Because I see dance as mind, body and soul, I like to think that I'm helping students grow holistically, and it's an honor to walk with people like that. And as with teamwork, bringing people together for a common vision is electrifying and contagious for everything involved. For me, dance is a communal expression so bringing people together is central in my work as an artist. But it's also the most gratifying part of the work.