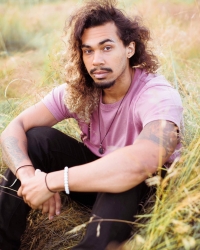 Contact Information
Office Hours:
by appointment, before and after class
Biography
B.A., Dance, University of Washington
Michael O'Neal Jr. (Majinn) is a queer African American dance artist and educator who utilizes his training in both street and classical dance styles to find and express his whole self. Majinn believes that to be the best dancer and person he can be, he should be versatile and push his own comfort zone. Through dance he has grown to become a person who loves to see growth in his students, people and himself. Through art Majinn hopes to inspire those he can, to follow their dreams and continue to grow in everyday life. One of Majinn's biggest goals in dance is to try and bridge the gap between the classical and street dance worlds and build a stronger dance community in his own city and a far, as well as to educate and spread the histories of street/club styles so the culture is preserved and respected. Majinn is a part of both Chapter1NE and Beat Hippies dance crews.
Majinn can be found on Instagram @Majinn_Mike  and on YouTube at youtube.com/choreomike
.