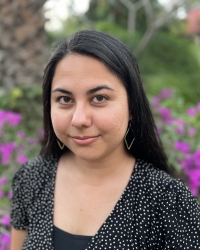 Contact Information
Office Hours:
In-Person Drop-Ins: Wednesdays 10am- 4pm, Zoom Drop-Ins: Thursday 11am- 2pm
Biography
Emily graduated from the University of Washington in March 2021 with a B.A. in Sociology and a minor in Education, Learning, & Society. During her undergraduate years, she worked as a peer adviser in the Undergraduate Academic Affairs Advising office and gained a strong interest in pursuing a career in education. She is currently a graduate student at the University of Washington, hoping to receive her M.Ed. through the Leadership in Higher Education program. Born and raised in Japan as a biracial/biethnic individual, Emily has been exposed to diverse cultures and languages from a young age. Her academic interests focus on understanding how complex identities affect one's experience in larger social structures.
Emily started dancing Nihon-buyo (a form of Japanese traditional dance) at the age of 4, and was certified as an instructor by the Kagetsu Ryuha in 2018. She started learning salsa during her freshman year at the University of Washington, and currently spends most of her free time social dancing in Seattle. 
Resources and Related Links: