Class of 2021
Dance | Comparative History of Ideas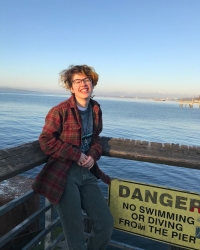 Biography
Majors in comparative history of ideas and dance; minor in drama acting.
Andy Lobkov is a young queer and trans artist graduating with a Bachelor in Arts. He loves to dance, be silly with their friends, and pet neighborhood cats. Andy hopes to keep making art that speaks to the bravery of being themselves, of being seen, and experiencing joy in the little moments. They thank Dani Tirrell, Majinn Mike O'Neal, and Brian J Evans for their teaching and reminding them of their joy.
What is one of your favorite moments from your time with the Department of Dance?
One of my favorite moments with the Dance Department was definitely getting to create and perform a piece for Dance Composition 1 with my good friend Fernando Eizaguirre. It was the first time I had created any piece of dance, and the first time I got to perform any dance work live. I am so honored I had that experience. I am so proud of how far I've come since then, performing in a few dance films this year already!
What plans or goals do you have for post-graduation? 
I plan to keep dancing as much as possible! I don't have plans quite yet apart from enjoying my summer and seeing what comes next. I hope to apply to work with Americorps in the fall!