Postmodernist American choreographer and dancer; co-founder of the Judson Dance Theater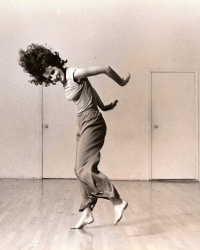 Biography
If I'm beginning to sound like a bricklayer with a sense of humor, you're beginning to understand my work.  
Born November 25, 1936, Aberdeen, WA 
Trisha Brown graduated from Mills College in Oakland, CA, studied with Anna Halprin, and taught at Reed College before moving to New York City in 1961. Instantly immersed in what was to become the post-modern phenomena of Judson Dance Theater, her movement investigations found the extraordinary in the everyday and challenged existing perceptions of what constitutes performance. In 1970, Brown formed her company and has been choreographically prolific over the ensuing years. She was named a Veuve Clicquot Grande Dame, and was the first woman choreographer to receive the MacArthur Foundation Fellowship Genius Award. In 1988, Brown was named Chevalier dans l'Ordre des Arts et Lettres by the government of France. In January 2000, she was promoted to Officier and in 2004, she was again elevated, this time to the level of Commandeur. Brown is also an accomplished visual artist, whose drawings have been seen in exhibitions, galleries and museums throughout the world including the Venice Biennale, The Drawing Center in Philadelphia, The New Museum, White Cube, Documenta XII, Walker Art Center, Centre Georges Pompidou, Mills College, Musée d'art Contemporain de Lyon, and Museum of Modern Art. 
Trisha Brown's Works
Premiere 1971