Experimental American dancer, choreographer, and filmmaker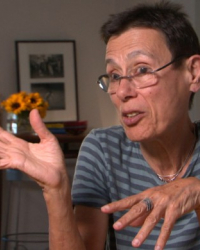 Biography
To quote Steve Paxton, at one point we were joking and he said that he invented walking and I invented running.
Born November 24, 1934, San Francisco, CA
Yvonne Rainer was raised by parents who considered themselves radicals. Her mother was of Polish-Jewish descent and her father of Italian ancestry.At a young age, her father introduced her to films, while her mother enrolled her in dance classes. She dropped out of college after a year and moved to New York at age twenty-two where she studied with Anna Halprin, Merce Cunningham, James Waring and Mia Slavenska, and danced in the companies of Waring and Edith Stephen. In 1962, along with Steve Paxton and Ruth Emerson, Rainer approached the Reverend Al Carmines to ask if they could begin performing at the Judson Memorial Church, founding the Judson Church Theater. Rainer formed her own company after the Judson performances ended and her style was " . . . eclectic, theatrical, even surrealistic. Her favored method was juxtaposition of radically diverse elements, sometimes by chance." (Sally Banes) Rainer's famous No Manifesto begins "No to spectacle. No to virtuosity. No to transformations and magic and make-believe." Although she occasionally re-stages some of her choreography, Rainer has turned her energy toward filmmaking.
Yvonne Rainer's Works 
Premiere 1969