Class of 2021
Dance | Computer Science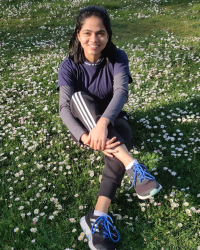 Biography
Sweekruthi Raghunathan is graduating with a double degree in dance and computer science. She practices many dance forms including bharatanatyam, African styles, ballet and club/street styles, while mainly focusing on modern, contemporary, ballroom and Latin styles for the past six years. From 2015 to 2017, Sweekruthi danced with The Floor in Kochi, India and performed at their annual dance festivals, Dance A'fair 2016 and 2017. At the UW, Sweekruthi worked alongside choreographers Adele Nickel, Lucie Baker, Yebel Gallegos, Florian Alberge and Roel Seeber and performed in the MFA dance concerts in 2018 and 2021. She is currently one of the officers for the UW Salsa club.
What is one of your favorite moments from your time with the Department of Dance?
Performing in the MFA dance concert 2018!
What plans or goals do you have post-graduation?
I have accepted a full time job as a software engineer at ServiceNow. I will continue dancing by going to dance classes in the Seattle area. I will also look and apply for small dance projects and residencies and also keep creating work with friends and artists I have gotten to know through my time here at UW Dance.