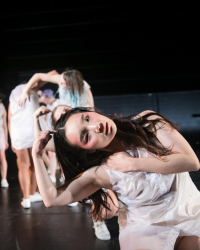 Biography
Major in Dance
Sojung Esther Lim comes from South Korea. She is a "Movement Communicator" who combines "mind" and "movement" in dance and creates dance works inspired by historical events, social issues, films, and emotions to communicate with the world. She believes that dance can be a tool to reflect global as well as personal issues we have faced from the past to the present because she knows we can approach the world with movement where we cannot approach with words. She has been working on historical events and issues which still affect society today. As time goes by, people who suffer are often forgotten, and the world will not remember them if we do not keep our eyes and voices up.
Favorite Moment at the Department of Dance
One of my favorite moments from the UW Department of Dance is the strong bonds that we made with one another.
Future Plans
I want to be a professional dancer as well as choreographer. I am trying to pursue further professional experiences and studies in dance.