Early modern dance pioneer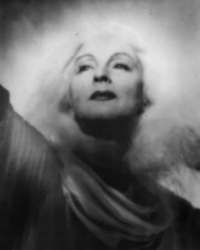 Biography
Remembering that man is indeed the microcosm, the universe in miniature, the Divine Dance of the future should be able to convey with its slightest gestures some significance of the universe. – Ruth St. Denis
Born January 20, 1879. Died July 21, 1968 in Hollywood, CA.
She founded Adelphi University's dance program in 1938, which was the one of the first dance departments in an American university. It has since become a cornerstone of Adelphi's Department of Performing Arts. Her early works are indicative of her interests in exotic mysticism and spirituality. Many companies currently include a collection of her signature solos in their repertoires, including the programme, "The Art of the Solo," a showcase of famous solos of modern dance pioneers. Several early St. Denis solos (including Incense and The Legend of the Peacock) were presented on September 29, 2006, at the Baltimore Museum of Art.
One of her more famous pupils was Martha Graham, who attended Ms. St. Denis' school of dance, Denishawn, which she had started with her husband, Ted Shawn. Doris Humphrey and Charles Weidman also studied at Denishawn, and, Graham, Humphrey and Weidman all served as student dancers with the Denishawn company. Ruth St. Denis and Ted Shawn were also instrumental in creating the legendary dance festival, Jacob's Pillow.
Ruth St. Denis' Works
Premiere Date: circa 1925
Premiere Date: 1906
Premiere Date: 1920
Premiere Date: 1908 
Resources and Related Links: