Class of 2021
Dance | Creative Writing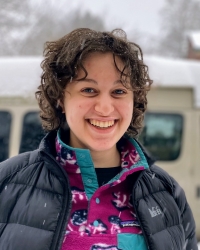 Biography
Raquel Gordon is a senior studying dance and creative writing and is excited to graduate and hopefully avoiding moving back in with her parents. Raquel sings soprano and sometimes alto with the University Chorale, and serves as treasurer for the Dance Student Association. In her free time, Raquel loves to write, choreograph, strum some guitar chords, and plot to steal the neighborhood cat Paprika. 
What is one of your favorite moments from your time with the Department of Dance?
My favorite recent memory is dancing with several dance students in a short, fun dance film outside of Meany Hall produced by the Dance Student Association. The best moment was an hour and a half into filming, we were all getting delirious and started communicating with the nearby sea gulls.
What plans or goals do you have for post-graduation?
I plan to keep dancing, singing, and writing, publish some poetry, and keep working as an intern for a local publisher and helping it launch.