Class of 2021
Dance Major | Pre- Med Track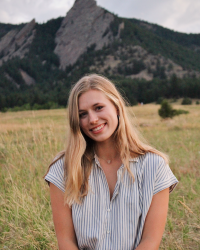 Biography
Olivia Sander was born and raised on Bainbridge Island, WA and began her dance career at Bainbridge Dance Center, where she trained from ages 4 to 18. Olivia then spent three years studying dance and integrative physiology at the University of Colorado-Boulder. During her time at CU, Olivia performed in over 15 works by artists such as Erika Randall, Helanius J Wilkins, Uri Shafir, Claudia LaVista, and Keith Haynes, and received training in modern and contemporary, Hip-hop, house, ballet, West African dance, and contact improvisation. She also worked in dance production as a House Manager and Stage Manager, served as an officer for the dance department's student organization for several years, and was honored to be the recipient of the Redmond Award in her junior year. Since arriving at UW in January 2021, Olivia has taken a deep dive into the world of dance film and has greatly enjoyed getting to know the UW dance community through her screendance classmates and instructors. 
Olivia's work as a dance artist is influenced by her investigations into identity, migration, personal histories, and the natural world, as well as her studies in human anatomy and physiology. 
 What plans or goals do you have for post-graduation? 
I will be taking a couple years to dance, do clinical work, and travel before applying to medical school!