Class of 2021
Bioengineering | Dance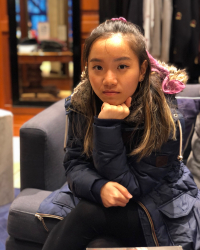 Biography
What is your favorite thing about majoring in Dance at the UW? 
I get excited every time I get to see other dancers dance their hearts out in class. It feels so liberating. Majoring in dance lets me take more classes to observe them. 
Why did you choose to major in Dance?
When I was debating on whether I should major in dance I was already majoring in Bioengineering. I asked myself if I would regret not majoring in dance and the answer was obviously yes. Majoring in dance also satisfies part of my dream of becoming a dancer when I was younger. 
What are your goals for post-graduation?
I am planning to either work in the bioengineering industry or apply to medical school. Since I have been more on the athletic side, I have always been interested in body alignment and bone health. Through the dance department, I was able to take classes such as anatomy to better understand my own body and it has furthered my interest in the body. Although I will not be pursuing an artistic career in the near future, it has helped me endure college and has become a form of an outlet from the grueling bioengineering schedule.
What advice would you offer to students considering majoring in dance? 
If you are like me and you have a primary major, ask yourself if majoring in dance would make you happier throughout your college years or if it will go along with your current major. Don't think too hard about it! You also don't have to decide right away. I took a ton of dance classes even before deciding to major in it because I realized it played a positive part in my day to day mental state.