Class of 2020
Dance | Biology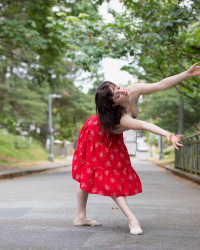 Biography
Majors in Dance and Biology
Born and raised in Seattle, Natalie Fernandi has been dancing all her life. She has now graduated from University of Washington, where she earned a BA with a major in dance and a BS with a major in biology. Although she intended to continue dance through college, she didn't expect her love of dance to transform and grow as it did at the UW Dance Department. While in the department, she found her closest friends, learned from incredibly inspirational professors, grad students and guest artists, and performed in fourteen departmental shows.
Favorite moment at the Department of Dance
The UW Dance Department has given me too many special memories to choose from. What I will carry with me closest as I head into the world is the shared love for dance and for each other that I was blessed to be a part of in the UW dance community. I will also treasure the astounding gift of dancing to the world class and creative accompanists nearly everyday for four and a half years.