Class of 2020
Dance | Human Evolutionary Biology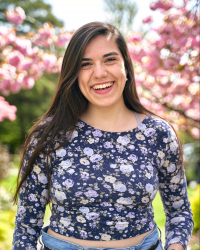 Biography
Majors in Dance and Human Evolutionary Biology; Minor in French
Michelle Asencio will be graduating summa cum laude from the University of Washington this June with a B.A. in Dance, B.S. in Human Evolutionary Biology, and French minor. She has been dancing for seventeen years, performing as a member of Peninsula Dance Theatre in Bremerton, WA before moving to Seattle.
Michelle has been fortunate enough to have performed and danced across the world as part of multiple festivals and workshops, including Bates Dance Festival this past summer. Michelle has also had the honor of working with choreographers Brian Brooks, Ezra Thompson, Eva Stone, Daniel Wilkins, Laura Littlefield, and Alethea Alexander, among others.
Michelle is passionate about choreographing, and has created works for the UW Department of Dance, UW's Aura Dance Company, Regional Dance America Pacific, and Peninsula Dance Theatre. For the 2019-2020 season, she was President of Aura Dance Company. Michelle is also a musician and photographer, and will soon be an alumnus of both the Husky Marching Band and the national band service fraternity, Kappa Kappa Psi. 
Favorite Moment at the Department of Dance 
I remember on my very first day of Comp 1, we went out to the Quad and danced with our eyes closed. There was music floating out of the windows of the music building, sunshine, warm bricks, and cool grass. We were in partners so that we had someone looking out for us, and I remember feeling very present on campus. The Department of Dance has encouraged me to try things I never would have considered over the past four years, all while helping me to feel supported, at home, and appreciative of beautiful details. I'm so thankful for that.