American dancer, choreographer, company director, and lighting designer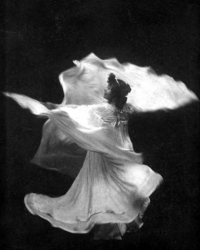 Biography
At a time when Art Nouveau was all the rage, Fuller burst upon the scene as its living embodiment. A new kind of dancer whose simple movements were highly expressive, she created a fantasy world of dazzling shapes and light play. Every mixed-media artist today owes a debt to her pioneering use of electrical lighting and her synthesis of music, color, light and fabric.
Anna Kisselgoff. The New York Times, September 24, 1988
Born Fullersburg (Hinsdale), Illinois, January 22, 1862. Died Paris, France, January 1, 1928.
Loïe Fuller began her theatrical career as a professional child actress and later choreographing and performing dances in burlesque, vaudeville, and circus shows. Although Fuller became famous in America, she felt that she was not taken seriously by the public. After a warm reception in Paris during a tour, Fuller remained in France and became a regular performer at the Folies Bergère with works such as Fire Dance; she became the embodiment of the Art Nouveau movement. Fuller's pioneering work attracted the attention, respect, and friendship of many French artists and scientists, including Jules Chéret, Henri de Toulouse-Lautrec, François-Raoul Larche, Henri-Pierre Roché, Auguste Rodin, Stéphane Mallarmé, and Marie Curie. More a theatrician than a dancer, Fuller invented many effects we still use today: the stage surrounded in black curtains to focus attention on the performer; the color-wheel; scenic projection; and, "specials" that are individual lights used to emphasize an effect. She took pieces out of the stage floor, replacing them with glass panels and upwardly directed lights. Fuller held many patents related to stage lighting including chemical compounds for creating color gel and the use of chemical salts for luminescent lighting and garments. She was also a member of the French Astronomical Society. Fuller is responsible for the European tours of the early modern dancers, introducing Isadora Duncan to Parisian audiences and developing the acceptance of modern dance as a serious art form.
Loïe Fuller's Works
Premiere Date: 1895
Premiere Date: 1896
Premiere Date: 1896
Resources and Related Links: