American dancer, choreogrpaher and company director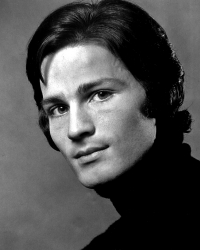 Biography
I came to dancing very late . . . But I had a ferocious determination to achieve certain abilities that the dancers around me already possessed.
Born Chicago, Illinois. April 9, 1943.
Anna Kisselgoff wrote about Lar Lubovitch in 1999, "Mr Lubovitch is a major dance maker who thrills and moves audiences . . . Essentially, he is a Romantic, enamored of the sweep and surge of passionate movement." Of the over fifty dances that Lubovitch has choreographed, Northstar is one of his most enduring, complex and haunting works. Intoxicating from a movement perspective alone,Northstar is also multi-layered choreography. Its metaphoric substrata delve into the movement of celestial bodies and the interdependency of the human form, its body parts and its central nervous system. Lubovitch has gained a reputation for a free-flowing, music-driven style that has made his work popular with audiences and has polarized critics.
Lar Lubovitch's Works
Resources and Related Links: