Class of 2020
Dance | Psychology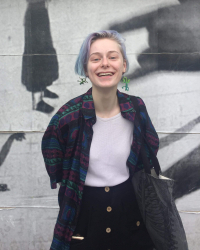 Biography
Majors in Dance and Psychology
Kelly Langeslay is a Seattle-based dance artist. She will be graduating from the University of Washington, where she earned a BA with a major in dance and a BS with a major in psychology. In her time at UW, Kelly has created works for the UW Dance Majors Concert and several student-run dance shows, and has enjoyed performing in the UW Faculty Dance Concert, UW Dance Presents, the UW MFA Concert, and the UW Dance Majors Concert. Some of the main things that drive her to create include anger, validation, the illusion of control over how she is perceived, and spite. She has been a part of the UW dance department for her entire adult life, and she is so grateful for her teachers, mentors, and peers, who have offered her so much support and kindness throughout her time at UW and have played a huge role in turning her into the person she is today.
Favorite Moment at the Department of Dance
I don't think I can choose a single favorite moment from my time here. The UW dance department has been such a profound part of my life for the past four years; I have learned so much about dance and life and myself and the world, I have grown as a dancer and creator and human, I have cried in most places in Meany, and I have met so many people who I love so much.