Class of 2020, Dance | Neuroscience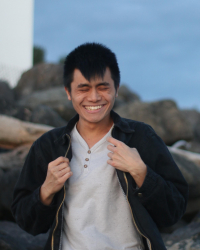 Biography
Majors in Dance and Neuroscience
Josh is a Yee and a bee, he key. 
Unlockee the fee pay the big big monee. 
Seattle community? echo chambee. 
Talk a lot of shee about diversity. 
Many many dance, ten tiny. 
Hot trash I see pass for prime comedy.
Favorite Moment at the Department of Dance
I laughed with a lot of people, thanks for that. 
Future Plans
Scenario one: 
The administration restricts
OPTs, and H-1Bs.
My application is denied. 
Tell my boss "cant work for you"
Send parting farewells. 
Book flight to Singapore. 
Quarantined in a hotel, 14 days
Because I'm coming from 
an infected area.
Excuse to play games all day.
Just bought DOS2 when it went on sale anyway. 
Struggle to find another job. 
Need to adjust to life at home.
Scenario two:
Stay here and work. 
No excuse to send 
heartfelt parting farewells
Hard pelt. Darting mare fells
Thud on the ground.
I lament the sound. 
Lightsaber out
Need to stay warm. 
Echoes of war
Begging to begin 
Winter is here
Civil war uprising. 
Too bad we're still 
Lacking in testing.