Expected Graduation: 2022
Dance | Oceanography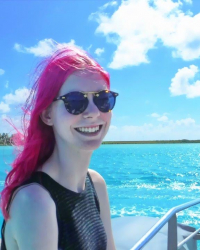 Biography
Majors in Dance and Oceonography, Minor in Climate Science 
What is your favorite thing about majoring in Dance at the UW?
There are so many different classes to choose from and so many styles of dance! I've really enjoyed stepping out of my comfort zone and trying new things, in addition to taking styles that I'm already familiar with at the college level.
Why did you choose to major in Dance? 
I have danced for basically my whole life, and I couldn't imagine not dancing. The Dance major offers flexibility, so I was able to fit in a major in addition to my Oceanography major. It is great to have that creative outlet while being very science-focused in my other major.
What are your goals for post-graduation? 
I plan to go to graduate school for oceanography, and I hope to have the opportunity to dance post-graduation at the next school I attend. I would love to one day have the opportunity to combine my interests of the environment and dance.
What advice would you offer to students considering a major in Dance ?
Take classes in styles/topics that you are unfamiliar with and get to know the students, faculty, and staff. You never know what new passion you'll discover!