Associate Professor, Donald E. Petersen Endowed Professor
Mellon Foundation Fellow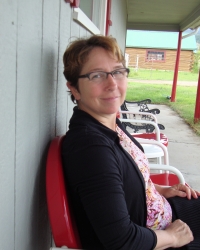 Contact Information
Office Hours:
M/F 12:00- 1:00PM https://washington.zoom.us/j/92329825109
Biography
MFA The Ohio State University Dance and Choreography
BFA University of Utah Dance
Two years at UCLA Dance
Jennifer received her M.F.A. from Ohio State University and her B.F.A. from the University of Utah. She teaches modern dance technique, composition, dance history, teaching methods, and The Creative Process. She teaches graduate seminars in teaching methods, and composition. She spent seven years in NYC touring and dancing with various choreographers including David Dorfman and Chris Burnside, and was also the Artistic Director of her own company. Salk was an assistant professor in the dance department at the University of South Florida prior to coming here.
Salk has taught master classes and choreographed for companies and schools around the country, as well as in Istanbul, Turkey and Asuncion, Paraguay. She is on faculty at the Staibdance Summer Dance Intensive in Sorrento, Italy. Most recently she has performed with Mark Haim. She has presented her research at the Arts & Society, International Association for Dance Medicine and Science and National Dance Education Organization conferences. She has taught at American Dance Festival and the Florida Dance Festival. Her DVD, "Experiential Anatomy in Dance Technique: Eight Skeletal Explorations" was published by Human Kinetics in 2010. Salk is the recipient of the Fulbright Specialist Roster Grant, and the Distinguished Teaching Award at UW in 2006. She was the Donald E. Petersen Endowed Fellow from 2010 – 2013. She was the Floyd and Delores Endowed Chair in the Arts from 2015 - 2018. She is currently a Donald E. Petersen Endowed Professor. She was chair from 2013 until Spring 2020.