Expected Graduation: 2023
Dance | Design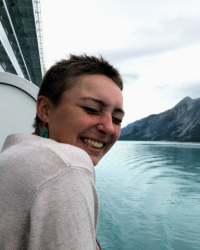 Biography
Majors: Dance and Design 
Why did you choose to major in dance? 
Dance has always been the one thing I am sure of, and amidst all the uncertainty and adjustment of coming to college, it provided a constant in my life.
What is your favorite thing about majoring in dance at the UW?
All the wonderful humans I have the pleasure of meeting and moving with, and the inspiration they all provide me daily. 
What advice would you offer to students considering the dance major? 
Becoming a part of the dance community here at UW can be incredibly helpful in feeling a sense of community at such a large university, while also providing a release from other potentially stressful academic classes. Deciding to major in dance was the best decision I have made so far in college!