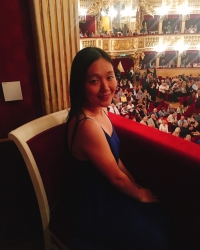 Biography
Majors in dance and biochemistry; minor in chemistry; UW Interdisciplinary Honors
Emily is graduating with a B.A. in Dance and B.S. in Biochemistry. In her four years in college, she discovered her love for social dancing, from swing, tango, bachata, salsa, to Angolan kizomba. In her time at the University of Washington, she took many dance lessons of various cultures, from capoeira, African technique, to butoh. She is thrilled to see where life will take her next and what new passions she will develop.
What is one of your favorite moments from your time with the Department of Dance?
One of my favorite moments was learning swing dance to modern pop songs, such as Uptown Funk. Swing dance with Professor Juliet McMains was my very first dance class at the UW, and I immediately fell in love with what this department has to offer, that I committed to a dance major by the end of freshman year. The whole class dancing a choreography of swing dance to Uptown Funk was a total blast!
What plans or goals do you have for post-graduation?
I will be working in education, with high school students, while also continuing her work as a caregiver in healthcare. I will continue to develop and learn new skills as I enhance my career in both fields.