American writer, composer, choregrapher, actor, saxophonist and dancer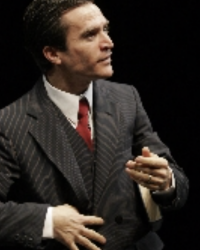 Biography
Impish, erudite, sensitive and side-splittingly funny, Dan Froot is much more than just a dancer-choreographer.
Backstage, April, 2005
Born New York City.
Dan Froot makes performance work that erases the borders between the disciplines of dance, music and theater. A writer, composer, choreographer, actor, saxophonist and dancer, Froot has created a rich repertory of solo, duet and group works since 1982. He began touring as a Jazz saxophonist in the late 1970s, and as a street musician in Boston, he became aware of the unique communicative spark some street performers share with their audiences. Fascinated with the performer-audience relationship, he pursued a study of experimental theater, performance art and postmodern dance at Bennington College, New York University, and with a variety of independent artists in New York. By 1983, Froot was presenting his work professionally in New York and was dancing with Yoshiko Chuma and The School of Hard Knocks, Daniel McCusker (of the Lucinda Childs Dance Company), Harry Whittaker Sheppard, acting with Ping Chong and Mabou Mines, and playing music with Ralph Lemon and many others. In 1990 Froot co-created Horn with David Dorfman followed by Bull in 1994. While Jazz remains central to much of his work, it is now mostly performed while dancing and/or speaking.
Froot has received support from The City of Los Angeles Cultural Affairs Department, The National Endowment for the Arts, The National Foundation for Jewish Culture, The Jerome Foundation, Meet The Composer, The Pennsylvania Council on the Arts, The New York State Council on the Arts, The Vermont Community Arts Foundation, The New England Foundation for the Arts, The Mary Flagler Cary Charitable Trust, The National Performance Network, and Reader's Digest. He is currently teaching at UCLA's Department of World Arts and Cultures.
Dan Froot's Works 
Resources and Related Links: