Class of 2021
Dance| Environmental Engineering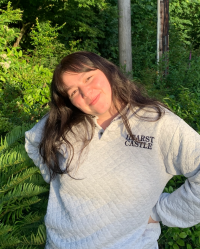 Biography
Alyssa is a 22 year old from San Diego who just completed her engineering and dance degrees. She is interested in the intersection of technical applications, environmental justice, and systematic reform. She hopes to pursue all of her different passions in the future in whatever capacity possible. She is very grateful for all of her friends, mentors, and professors that have helped her through the past four years!
What is one of your favorite moments from your time with the Department of Dance?
My favorite moments were shared laughs backstage or during rehearsals that ended up in lasting friendships. I also loved every second I spent performing or dancing at UW.
What is your favorite thing about majoring in Dance at the UW?
My favorite thing about majoring in Dance is the community I have found in the department. It is small and tight-knit which is refreshing on such a big campus that all too often feels impersonal. 
Why did you choose to major in Dance?
I chose to major in dance because I wanted to keep dancing in college and I want to pursue dance beyond college too.  
What are your goals for post-graduation?
I am joining the Jesuit Volunteer Corps for one year and working at an elementary school in San Jose.