Graduate Student, Department of Dance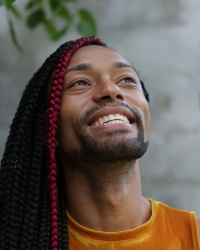 Biography
Abdiel Jacobsen, is former Principal Dancer of the Martha Graham Dance Company and has performed many leading roles in Graham's ionic repertoire as well as new original works by Nacho Duato, Robert Wilson, Sidi Larbi Cherkaoui, Sonya Tayeh, Luca Veggetti, Andonis Foniadakis, Michelle Dorrance, Larry Keigwin, Doug Varone, Richard Move, and more. They have been a guest artist with the Lar Lubovitch Dance Company, Buglisi Dance Theater, and Cecilia Marta Dance Company. 
In 2019, Abdiel and their dance partner Kristine made history becoming the world's first professional "male-female" ballroom couple to compete as Gender Neutral in DanceSport (mainstream ballroom competition) swapping roles of lead and follow equally in all five dances of the American Rhythm division. They have been teaching their gender neutral approach to partner touch dance at The Juilliard School, Harvard University, Stanford University, University of California Irvine, and more. Abdiel is currently a Fulbright Specialist with the US Department of State's Office of Educational and Cultural Affairs and Global Learning, with a 3-year tenure. Abdiel's passion and desire for educational and cultural exchange has allowed them to teach and choreograph all over the USA and in countries around the world including Haiti, China, Canada, and England.
Abdiel is an avid Hustle dancer and is dedicated and committed to the cultural preservation of the roots of New York Hustle dance and the expansion of its creative expression. They are currently directing a feature documentary on the history of Hustle called 6 Step Story. Their greatest passion is igniting and uniting all people through social dance as a form of collective healing, transformation, and celebration.