Where are the Department of Dance offices and studios?
Second floor of Meany Hall. There are two public entrances.
Off Red Square just west of Gerberding Hall. Enter at the door farthest west.
Just off 15th Avenue NE across the access road to the Henry Art Gallery. This is the lower level entrance and the location of the Dance Department locker rooms. Take the elevator or stairs to the upper level of Meany Hall.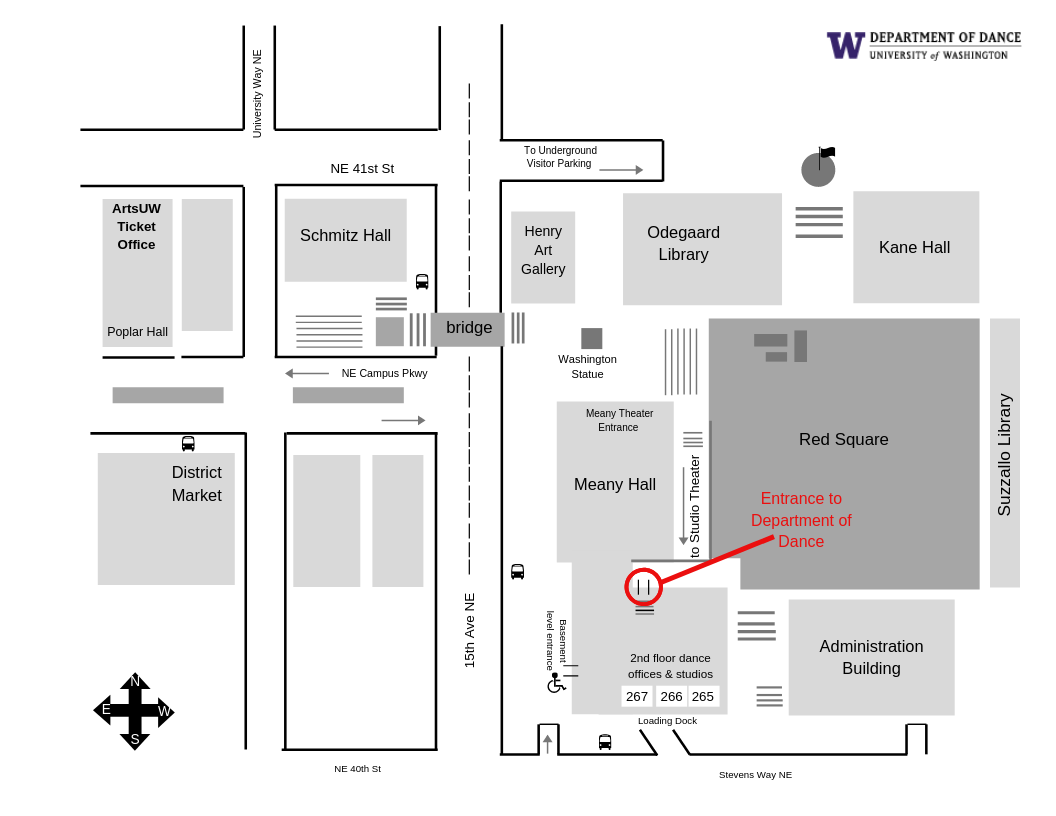 Download the map of Meany Hall Department of Dance here.
Admissions
How do I arrange for an audition?
There are no auditions to get into classes at the University of Washington.
Students registered in ballet, modern and/or jazz technique should consider the first class session of every quarter a placement class. Students registered in the wrong level will be told to move to the correct level during the first week of the quarter (changes in registration during the first week of the quarter incur no additional fees). Faculty make the decisions on placement and their decisions are final.
How do I sign up for the Dance Minor?
Students who have earned 45 credits at the University of Washington, declared a major, and who have completed any one of the Dance Department courses may declare a minor in Dance. Students wanting to declare the Dance Minor must file the paperwork with their major adviser. To earn a minor in Dance, a student must complete 25 credits of coursework in the Dance Department.
How do I apply to be a Dance Major?
The University of Washington Department of Dance offers a dance major leading to a Bachelor of Arts degree. The curriculum offers a highly integrated course of study with a rigorous balance between creative work and academic study.
The major curriculum is an in-depth study of dance as an art form and cultural practice. Students are given the opportunity to explore dance from several analytical and methodological frameworks: technical, creative, historical, cultural, aesthetic, pedagogical and scientific. Techniques offered include ballet, modern dance, West-African dance, street styles, capoeira, improvisation, social dance, integrated dance, somatic practices and jazz. Majors are encouraged to expose themselves to a diverse range of techniques. 
Current UW students may apply to the major during the autumn, winter or spring term. Students interested in applying must have a minimum 2.00 cumulative GPA, successfully completed five credits in any of the required core courses for the major, and be registered in or have successfully completed at least one technique course. Interested students are also encouraged to meet with the Dance Program adviser to discuss the applicants dance background, time to degree and any other pertinent issues or questions related to the major.
The Program
How do I figure out what level dance class is right for me?
Dance 102 (intro to modern) and Dance 103 (intro to ballet),  are both good choices for someone who has never had any sort of movement training. 
Dance 104/105/106, Modern Technique I and Dance 107/108/109, Ballet Technique I are beginning level technique classes. These courses assume previous dance training and a solid familiarity with dance steps and terminology (see Technique Placement Criteria below).
The following courses are mixed beginning level technique classes. There is no prerequisite but some previous dance training or experience is helpful:
Tap I: Dance 125, Beginning Tap

Salsa I: Dance 236, Salsa and Latin Dance

Swing Dance I: Dance 238, Swing Dance 

Tango I: Dance 239, Tango 

Street and Club Dances I: Dance 240, Street and Club Dances / Dance 286, Special Topics in Street and Club Dances

African I: Dance 280 , African Dance Techniques

Capoeira I: Dance 287, Capoeira 
Students registered in 200 or 300 level technique classes participate in joint placement classes at the beginning of each quarter to confirm registration in the correct level. Students registered in the wrong level will be told to move to the correct level during the first week of the quarter (changes in registration during the first week of the quarter incur no additional fees).
Technique Placement Criteria:
Are there dance classes besides ballet and modern?
Dance 210-212/310-312: Jazz Technique 
Dance 225: Tap Technique 
Dance 231/241: Folk and Social Dance Forms offers different idioms each quarter. Options include ballroom, swing, tango and salsa. There are usually two sections of the class: one for leads (the traditional male role) and one for follow (the traditional female role).
Dance 236/ Dance 336: Salsa and Latin Dance, Salsa II
Dance 237: Ballroom Dance provides instruction ballroom dances (e.g. waltz, foxtrot, rumba, quickstep, samba, cha cha). Focuses on American style social  dancing with particular attention to techniques for leading and following. Includes reading and writing assignments, historical/cultural significance of ballroom dance, and an outing to social ballroom dance.
Dance 238: Swing Dance includes east coast swing, Charleston, Lindy hop, Balboa, and west coast swing.
Dance 239/339: Tango I, II focuses on miloguero and salon style Argentine tango. Introduces tango Nuevo, tango vals, and milonga. 
Dance 234: World Dance and Culture explores movement and culture together and has work outside the classroom in addition to technique experience. Salsa, African and Chinese are examples of classes that are taught under the Dance 234 umbrella.
Dance 230/232/233: Alternate Movement Studies are classes that explore the somatic practices. Pilates and yoga are most often taught, but other somatic practices such as Laban Movement Analysis are sometimes covred. These courses assume previous dance training and a solid familiarity with dance steps and terminology.
Dance 240/286: Street and Club Dances classes explore the history, cultural significance and movement technique of dance styles originating from marginalized Black, LatinX, and LGBTQ communities such as House dance, Waacking, Voguing, and Funk Grooves. 
Dance 280/285: African Dance classes expose students to traditional and modern dances from West Africa including Benin and Guinea. 
Dance 287: Capoeira trains students in the traditional Afro-Brazilian martial art form that combines dance, acrobatics and music. Capeira is offered every Spring Quarter. 
The Dance course I want to take requires an add code. How do I get that?
Add codes for class registration are available on a first-come, first-serve basis once registration begins for any given quarter. Many Dance Program classes also have major/minor priority during the first registration period. Email danceadv@u.washington.edu to request an add code. Have the course number and SLN and be prepared to answer a few questions about the appropriateness of the course for you. If there is room in the class and you have the requisite skills, you'll receive an add code.
The Dance class I want to take is full. How do I get in?
There is no wait list. Students interested in the course may show up on the first day of class and ask the instructor if space has become available. Students may also monitor registration as space can often open up before the class begins.
I am currently in a Dance technique class. How do I determine what class to register for next quarter?
Most students should plan on taking technique at the same level (100, 200, 300, etc) for a full year. A student with questions about their technique level and registering for the following quarter should chat about options with their current technique instructor.
Other
What opportunities are there to perform?
Students in the Department of Dance have multiple opportunities to be involved in performances on campus. Information on auditions for the faculty dance concert, dance majors concert, MFA concert, and opportunities in the Dance Student Association are announced in class, over the dance majors list serve, and posted outside of the classrooms in Meany Hall. Opportunities also exist for students to participate in the Chamber Dance Company performances by faculty invitation. Students who are selected to perform must remain actively enrolled in at least one technique class through the final performance of the concert.
In addition, students are often notified of auditions and opportunities outside of the university with local organizations and companies such as the Seattle Opera, Seattle Theatre Group, and the Village Theatre among others.
Is there a dress code for technique classes?
There is no formal dress code for Department of Dance classes. Students should wear clothing that is loose enough to allow for easy movement, but not so baggy that the instructor can't observe details of how a student is moving. Hair needs to be pulled back and away from the face. Ballet slippers or socks should be worn for ballet class. Bare feet or socks are appropriate for modern. Legs and arms should be covered to limit lotions and oils getting onto the floor surface (this creates a hazard for dancers as the move across the floor). Students in jazz may go barefoot or wear jazz shoes, ballet slippers, or socks.
Where do I change? And where do I put my clothes during class?
The lockers between Meany studio 266 and 267 are available for use during class time only. No overnight or all day use of these lockers is allowed. Lockers between 267 and 268 are available to rent on a quarterly basis for students enrolled in Dance Program classes.
Students may also rent lockers in the lower level locker room. Dance majors may rent lockers a year at a time. Dance minors may rent lockers on a quarterly basis. The locker room requires a code to enter. The code may be obtained from your instructor or from the office.
All students may access the lower level locker rooms to change before and after class. No changing is allowed in the limited restroom facilities on the second floor.
All students are strongly encouraged to use a lock on their locker. Meany Hall is a public building and theft has been a recurring problem. The more items students leave out, the more theft occurs. Locking up any valuables makes the building less inviting.
How can I get involved in the Arts Diversity Council or the Dance Student Association?
Contact information for the officers in the Dance Student Association or the Arts Diversity Council changes from year to year. Current officer contacts are posted on the DSA & ADC bulletin board on the second floor of Meany Hall. 
Arts Diversity Council
Dance Student Association: