Graduate Student, Department of Dance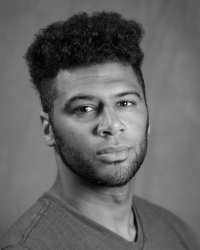 Biography
B.A., Liberal Arts, Emphasis in Dance from Gustavus Adolphus College, Saint Peter, Minnesota
Brian J. Evans is a Citizen Artist, defined by the Aspen Institute as: Individuals who reimagine the traditional notions of art-making, and who contribute to society either through the transformative power of their artistic abilities, or through proactive social engagement with the arts in realms including education, community building, diplomacy and healthcare. An artist striving for social justice, Evans places high value in process and product, having had most of his training out in the 'arts field' of the Twin Cities, working with over 50 artistic directors on more than 200 projects from solo endeavors to collaborating as a self-employed professional performer & teaching artist. Brian J. Evans is a recipient of a 2015 McKnight Dance Fellowship, administrated by The Cowles Center and funded by The McKnight Foundation. A former decade long principle dancer and musical director for Stuart Pimsler Dance & Theater, Evans has continued to investigate the idea that connections exist between us all and it's the responsibility of the Arts to rediscover those connections, highlight them and allow us to feel holistically human. Evans is currently a MFA Graduate Student at the University of Washington.
Fields of interest: Social Justice & Equity Training, Theater Dance Activism, Community Generated Art
Creative Work: Singer, Songwriter, Spoken Word, Poetry
 Interests: Nature, Hiking, Water, Athletics, Adventure, Energetic and Emotional Risk Taking, Honesty, Courageousness, Making the world a more loving and compassionate place to hang out in! 
Resources and Related Links: